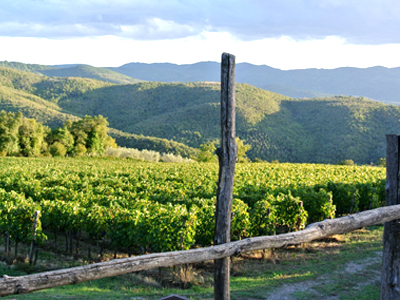 Niche brands and craft producers in the wine, beer, and spirits segments have gained a loyal following of passionate consumers who want to connect with the people and places behind the product.
More than an industry trend, it's an evolutionary development that motivates producers to share their brand's story and company culture to engage their fans in more meaningful ways. A more sincere and open marketing environment also inspires people to create products and experiences from a very personal vision that they are eager to share from launch.
Luca Cerofolini is a sommelier based in the charming, Tuscan city of Arezzo. Driving high into the hills above Arezzo, Cerofolini shares little about the winery to which he is escorting me – he knows that the place and product will speak best about the vision behind Podere di Pomaio. I was excited to visit any winery that Cerofolini recommends, but I was not expecting to experience such a fascinating wine family culture defined so completely by a singular vision.  

"Pomaio is a unique reality, a project born of the love of a family for its own territory," says Cerofolini. "It's a dynamic, young winery located on the summit of a south-west exposed mountain -- we could call them mountain wines."

Cerofolini describes Pomaio's wines as, "fresh, mineral, never opulent and not typically Tuscan wines."

After enjoying an extensive wine tasting and tour, as well as extensive discussions with co-founder Marco Rossi, I see that Pomaio's wines and winery are not typical in any way. The Rossi family has created a product and brand that are not driven by the market, but by a unique vision of wine making, environmental caretaking, and of conducting business.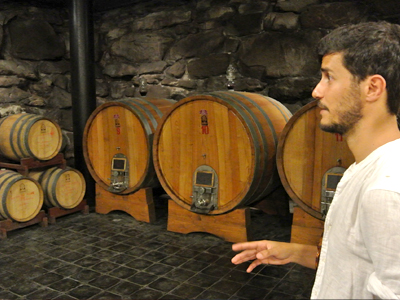 "A wine bottle is like a mirror," says Rossi. "The wine really reflects the winemaker -- once he's made the wine, it will speak for him."

Rossi also speaks for Pomaio's winemaker, who is his older brother Iacopo. Marco describes his brother and business partner as, "kind, soft-spoken, not aggressive". Based on my experience with Pomaio, I see that both of the brothers' personalities are reflected in their wines and in the entire environment of their winery.

"This is our vision of wine," says Rossi. "It's how we like wine, how we want to express our terroir. We made it for ourselves."

Marco Rossi discloses that under EU law, conventional winemakers (non-organic) can use up to 330 additional ingredients.

"If I'm using many additional ingredients, I'm not making an honest wine -- I'm hiding myself and my terroir. I'm not really giving the opportunity for people to understand my idea of wine making."

For Rossi, that means that many winemakers feel they don't need top-level grapes or terroir; only sufficient levels and then correct everything with additional ingredients.

"If you're organic, the law says that you can use up to 47 ingredients (natural ingredients)," says Rossi.

He explains that at Pomaio, they use only one or two additional ingredients – a low level of sulfites in some wines, and for some vintages they might add a little bit of natural yeast as a starter for the fermentation.

"We don't use anything else. We try to accommodate nature," he adds.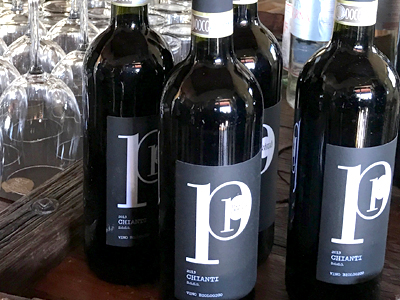 All of Pomaio's wines are certified organic. The soils of the winery are managed with an extreme organic farming method and the area is known to be well-suited for high quality production. Pomaio's lots are almost entirely cultivated in Sangiovese grapes.

"The universe of organic wines is very fascinating, yet it's still to be discovered entirely," says sommelier Cerofolini. "Organic wines represent a more natural approach that limits the use of technologies and avoids chemical additives -- it is almost a return to the so-called peasant wines of the past."

The Rossi's dedication to organic practices is rooted in their respect for the land and a belief that high quality wines can be made without compromises. Their way of winemaking is clearly driven by their vision and values, not by a marketing strategy. The Rossi brothers don't feel a great need to define the Pomaio brand as natural or organic. It's also clear that they are completely confident to let the wine speak for itself.

"The strategy was never to say that people need to buy our wines because we are organic," says Rossi. "People would want to buy our wines because we have a vision, because of the great quality. After people appreciate the quality, then we can talk about the vision -- then we will tell you exactly who we are and what we do."

Such a gradual, and optional, reveal reflects a natural market approach based in a knowing that there are many wine lovers who indulge equally in the wine and in its story of creation – consumers who want to understand and experience the culture that created the wine. Such 'foodies' and 'wineos' want to engage with everything behind the product and make a connection based on shared values. The organic growth of Pomaio's following is driven by more than taste and word-of-mouth; followers see the Rossi's dedication to their vision and to certain values that are reflected in the product and the place.

Cerofolini's reference to Pomaio as, 'a unique reality' is most appropriate. Pomaio certainly represents a unique reality created by an honest, singular vision and a clear desire to do what feels and tastes best to its creators. By faithfully following its vision, Pomaio has attracted a growing number of wine lovers who share their vision and values.  

"Not everyone wants to get behind the wine -- they just want to enjoy the wine, and that's fine," says Rossi. "But for people who want to discover what's behind the wine, we can start with our story." http://www.pomaio.it/