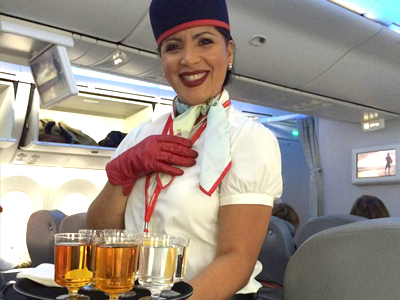 The cost of living in Oakland, California is 45 percent more expensive than in Madrid, Spain (www.expatistan.com). Such a large difference in cost is not surprising to people who've visited Europe, which is a great vacation value in many ways (See: Europe is a great adventure and a great value). In cities and towns across Europe, we continue to see lower prices on hotels, food, drink and entertainment compared to popular travel destinations in the U.S., Mexico, and Canada.
Extending the value are the many advantages of the European way of living: high quality of product and service, unspoiled nature, low crime rates, excellent public transportation, and cities designed for walking, biking and enjoying green spaces. Also, the people are very friendly. In every European country we've visited, people have been friendly, open and curious about visitors. Their attitudes about Americans and Mexicans have been very positive and often enthusiastic. Europeans are fascinated with American and Mexican culture and are often eager to hear about life on our continent.
While Europe represents a great travel experience and value once you're there, getting there has never been inexpensive unless you live on the East Coast. Thankfully, the recent entry of Norwegian Airlines to the U.S. market has changed this reality in a big way. The first discount European airline to serve the U.S. market, Norwegian Airlines offers fares that are much lower than any airline we've researched for flights from the U.S. to Europe. In September of this year, Norwegian offered direct, one-way flights from Oakland to Stockholm, Sweden for $199, and return flights to Stockholm or to Oslo, Norway for $438. To Spain, Italy, France or any of Norwegian's destination countries, the highest return fares we've seen have been around $600 (meals and baggage fees included), which is revolutionary for flights from the West Coast.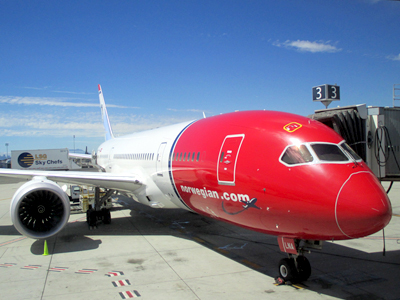 "We believe that Americans also deserve affordable fares across the Atlantic," said Norwegian's CEO Bjørn Kjos. "Our direct flights from Oakland to both Oslo and Stockholm have been very well received by the traveling public."
We recently flew out of Oakland on Norwegian Airlines to experience a European discount airline as part of a low-cost European adventure. Overall, our experience on a direct flight to Oslo, Norway was very enjoyable and relaxing. We learned that a discount airline doesn't necessarily mean a lower quality experience. In fact, the opposite was true regarding our flight with Norwegian as most aspects were comparable or superior to that of most regular airlines we've used. Norwegian's flight crew, the service, the food, the entertainment system, and the plane itself were all excellent.
The discount category of airlines is defined by lower base fares and a more democratic pricing model that gives you a choice in paying for meals, seat assignment, and checked bags. Economy class fares on Norwegian don't include baggage, seat assignment or meals, all of which can be purchased separately or not at all. With premium cabin fares, you get a wider seat, more recline, a footrest, a blanket, complimentary wine, breakfast and dinner, your choice of seat at booking and two checked bags.
The food served on our Oakland to Oslo flight was flavorful and of good quality. In addition to the served meals, passengers can order sandwiches and snack food during the flight. Through the excellent entertainment system, you can order and pay for food and drinks directly from your seat. Provided at no extra charge, the entertainment system had a good selection of HD movies and TV shows to allow serious binge-watching if desired.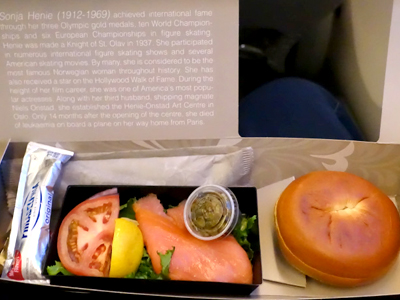 Norwegian operates one of the most modern and fuel efficient aircraft fleets in the world. The airline uses the state-of-the-art Boeing 787-8 Dreamliner for all flights between the United States and Europe. These new generation aircraft provide a number of innovations for increased passenger comfort, such as larger windows, a more silent cabin, and LED mood lighting programmed to optimize your awake and sleeping cycles. All of this on-board tech really helped limit our tiredness on the ten-hour flight from Oakland. We arrived in Oslo at 2:00AM California time but eagerly started our day (at 11:00AM Oslo time) with energy and excitement.
Last year, more than one million passengers traveled on Norwegian flights between the US and Europe. For the routes from Oakland to Oslo and Stockholm, the airline carried more than 100,000 passengers in 2014. These figures are growing as more people discover the excellent value Norwegian provides. Having experienced Norwegian's flight service, we are not surprised that in 2013 and 2014 the airline was voted Europe's best low-cost carrier by the renowned SkyTrax World Airline Awards.
Norwegian has brought much-needed competition to the U.S. market and made it possible for more people to enjoy the wonders of Europe. Traveling to Europe on a modest budget is now much easier than it was just a few years ago. From the West or East coast, Americans now have every reason to choose Europe as an escape from their daily life, and from the high cost of living in North America.