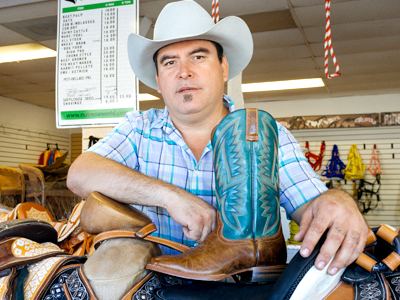 Emilia Otero has been involved in Oakland's mobile food industry for 20 years. She started with a project to improve community nutrition options in Oakland, by organizing local mobile food vendors into what she calls "the new food industry on wheels."

"I wanted to bring nutrition to my community and to teach kids about healthy eating," she said.
With support from the community and vendors and a $75,000 grant from the city of Oakland, Otero opened her first commissary in 2008. Unfortunately, the grant didn't cover the necessary start-up costs. Despite good business, no bank would give her a loan because of her lack of equity. This led her to Opportunity Fund, which gave her the loan she needed. The nation's largest nonprofit, community development financial institution supporting small businesses, Opportunity Fund provided more than 2,000 loans to small business owners last year.

Two years after her first loan, Otero faced another setback: the building housing her commercial kitchen went into foreclosure. Emilia's business—and the 300 mobile food vendors who relied on her—were facing failure. "I panicked thinking of all the food vendors counting on me, I couldn't let them down," she said.

Emilia renovated a building no one else wanted but needed financing for equipment that was essential for passing city inspections. With another loan from Opportunity Fund, Otero started her commercial kitchen, La Placita, where food vendors lease space to prepare their foods for the day. Now, every day at 3 a.m., a dozen people start cooking in Otero's industrial kitchen, La Placita, to fill the streets of Oakland with delicious food.

"Opportunity Fund saved my business and dozens of other businesses" she said.

Adolfo Ortiz started Two Amigos Western Wear in 2006. Shortly after moving to Oakley, Ortiz saw the need for a store catering to local farmers, ranchers, and cowboys. Adolfo has been a self-starter his whole life, from the time he came to the U.S. from Mexico to find work at the age of 14.

Two Amigos Western Wear has grown to a one stop shop with riding gear such as saddles, hats, boots, livestock feed, and horse care supplies. The business has become a 7-time repeat borrower with Opportunity Fund.

Opportunity Fund small business officer Shanna McClearn recently approved the latest loan for Two Amigos Western Wear in October 2017. The new loan is helping Two Amigos Western Wear purchase stock for the upcoming holiday shopping rush.

"Since working with Opportunity Fund, my cash flow has improved so much," says Ortiz. "The loans give me the push to do more things with my business."

"Opportunity Fund believes in the power of saying 'Yes' to everyone's dream to build a business, so entrepreneurs in every community can thrive, support their families, and create jobs vital to our economy," said Luz Urrutia, CEO of Opportunity Fund.

Olivia Colt is owner of Salt & Honey Catering in Berkeley. The young entrepreneur has overcome several strokes in addition to the usual challenges of sustaining a business.

"I told my parents that if could cook every day for the rest of my life, I'd be a happy girl," said Colt.

Colt started her catering business in her apartment, hosting fancy dress dinners complete with entertainment provided by her parents, who also helped prepare and serve the three-course plated service. Word of mouth from dinner guests, combined with online reviews drove Salt & Honey's buzz, allowing Olivia to expand into a small commissary at Oakland's Clarion Hotel.

She enjoyed building her business during the next two years, but then experienced another personal health challenge, which she recovered from. A loan of $15,000 from Opportunity Fund boosted the health of Colt's business by helping improve cash flow and providing working capital for equipment.

"Lenders who are willing to support entrepreneurs are wonderful for the community," Colt said.