Positive purpose, gratitude drive business success --- 

"Entrepreneurship is jumping off a cliff and building your wings along the way', a mentor once told Alejandro Velez.
Velez, 25, and his business partner Nikhil Arora, 26, are owners of an Oakland-based business that has received national attention for its unique product and community impact. Back to the Roots is a sustainable urban mushroom farm that uses locally-sourced coffee ground waste and smart packaging to enable people to grow gourmet mushrooms at home. It is not the kind of work the two UC Berkeley graduates had planned, or what their families expected. Completing their studies in business at university, both men were about to head into the corporate world of investment banking when they were inspired by an idea during a class lecture about growing mushrooms entirely on recycled coffee grounds. At that moment, Velez and Arora did the two key things that every entrepreneur does to become an entrepreneur – they had an idea and then they took action. Out of a class of about 150 students, they were the only two who enquired with the lecturer about growing mushrooms as a potential business.
Inspired by the idea of turning waste into wages and fresh, local food, they experimented in Velez's fraternity kitchen and ultimately grew one test bucket of oyster mushrooms on recycled coffee grounds. With that one bucket, some initial interest from Whole Foods and a $5,000 grant from the UC Berkeley Chancellor for social innovation, Velez and Arora were on the path to building their own enterprise. Three years later, the two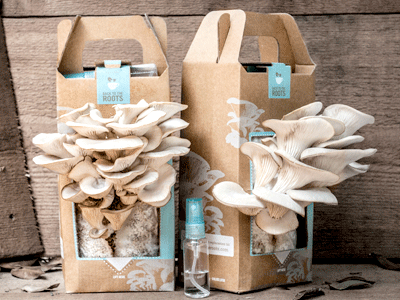 young entrepreneurs have a company that employs 31 people and is expected to have about $4.5 million in sales this year.

"We didn't have much money to start the business - we bought an old van to pick up the coffee grounds from Peet's coffee," says Velez, who is very grateful for the support he received from family and friends.

"My mom was very supportive and without her this company would not have happened," he says.

Born in Medellin, Colombia, Velez and his mother moved to U.S. when he was eleven. He didn't know any English but he learned it quickly.

"I became totally involved in the American lifestyle and I fell in love with the American culture."
As an adult, it is clear that opportunity is a big part of what he loves about American culture.

"Work hard and focus on the positive things about your work and you can do anything - the opportunities are endless in this country," he says enthusiastically.

Velez attributes his success to his passion for education, the people around him, and the belief he has in his partnership with Arora.

"We believed in the partnership and that no matter how, we would be successful."

Speaking with Velez, it is clear that his positive outlook, lack of fear, and abundant gratitude are also key to his success and happiness.

He says that he feels very fortunate that he loves what he does.

"I am very grateful - I am having such a blast and doing it with the people I want to work with," he says.

Velez´s fearlessness is based in his knowledge that, ´the worst that can happen is not that bad´.

"Whatever you do, you will learn a ton and that doesn't go away even if your company fails," he states.

When asked what advice he would give to people who are thinking about starting their first business, he says, "Just do it - you have to have a sense of not caring to be wrong or fearing to fail."

Velez´s attitude and hard work have helped get the company´s products into Whole Foods, Safeway, and retailers in Canada and Hong Kong. Back to the Roots expects to collect and reuse 3.6 million pounds of coffee grounds this year. It represents a lot of food waste that would have ended up as landfill. The environmental and community impact is a big motivation for Velez and team, who donate product to local schools and community gardens.

Velez says he is driven by the feeling that they are making a difference in the community.

"I am addicted to this life, when you do things that impact people," he says.

He especially loves impacting the people of Oakland, a city which he is very positive about.

"There is a lot of cool stuff happening in Oakland," he says. "The people and the energy, especially around the food movement - the community wants to grow."

It seems that Velez´s growing venture will keep him in Oakland for a long time, though he mentions that he wants to go back to Colombia in the future. He points out that Colombia is a country of coffee - could it be that the mushroom and coffee revolution will sprout there one day?