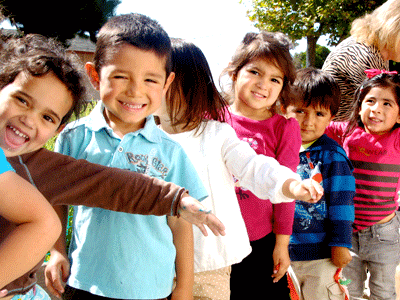 "A future where all Latino families are safe, healthy, and full participants in the civic and economic life of California", is the vision of The Latino Community Foundation (LCF). Based in San Francisco, the foundation has a strong presence in the Bay Area, including the East Bay and its large Latino community.

LCF manages and supports many community programs, which are funded by many sources and individuals. Including Latinos.

"About 90 percent of our individual donors are Latinos," says Raquel F. Donoso, LCF's Executive Director. "We are showing that we (Latinos) are not just a community that needs, but gives. It's definitely a misperception that we are not givers." 

One of the organizations that LCF supports is the Bay Area Hispano Institute for Advancement, Inc. (BAHIA), which provides subsidized and full-cost child care. BAHIA, Inc. operates two childcare centers in Berkeley, where the bilingual curriculum is designed to nurture the child's cognitive, physical, language and socio-emotional development.
"Sixty per cent of the families that we serve are Latinas," says Beatriz Leyva-Cutler, Executive Director. "The rest are interracial families that want their kids to grow up with the two languages."
Leyva-Cutler says that sixty per cent of the enrolled kids are under subsidized programs - the regular cost of the pre-school for a three-year old child is $1,300.
"This is an amount that many of the families that we help cannot pay," she says. "The state gives us approximately $752 per enrolled kid, so we have to meet the difference with the help of organizations like the Latino Community Foundation."
A grassroots organization of Latina immigrant women, Mujeres Unidas y Activas (MUA) is another program supported by LCF.
"In our Manos Cariñosas program, we train people on child care and elder care," says Juana Flores, co-director of programs for MUA, which has offices in Oakland and San Francisco.
MUA also trains women in house cleaning services, with a focus on the use of green (non-toxic) cleaners.
"We want to empower the women, we want women to see and reach their potential," adds Flores. "We help them with their self-esteem and to recognize the violence and abuse in their homes so they can become stronger and change their lives positively."
With a great need for positive change, the Latino community is fortunately demonstrating a growing ability to fund programs for change. LCF's Donoso explains that Latino individuals and Latino-owned businesses are growing in their ability and desire to contribute money and time to community organizations. 
"There is also a lot of people who want to give back to the community but don't know how," adds Donoso, who shares a sentiment that she says is a motivator for people to give: "I want to give back to my community - I remember that program that was there for me in high school and was the reason I went to college and I want to fund those programs so that other kids can have the opportunities I had."