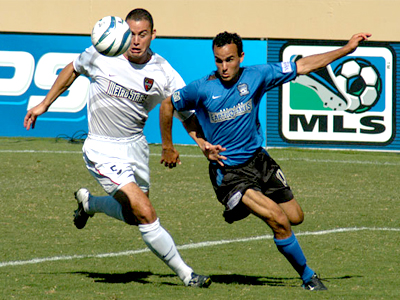 The San Jose Earthquakes (4-1-1, 13 pts.) are hosting the Real Salt Lake (5-2-0, 15 pts.) tonight at 7:30 pm at Buck Shaw Stadium in Santa Clara, California.
The Quakes have experienced two straight home loses against the RSL at Buck Shaw Stadium, in 2010 (3-0) and 2011 (1-0).  All-time scoring San Jose 14, Real Salt Lake 20.
The team that currently plays its games at Buck Shaw Stadium in Santa Clara is not the same team that started as The Clash in the MLS in 1996.
They changed their name in 2000 and won the MLS championship in 2001 and 2003. The name came from the previous Earthquakes that played in the North American Soccer League form 1974-1984 and then in the Western Soccer Alliance from 1985-1988.
The Lineup for Saturday will probably include (4-4-2):   
Busch; Beitashour, Hernandez, Morrow, Corrales; Baca, Cronin, Moreno, Dawkins; Stephenson, Wondolowski.            
The probable Lineup for the RSL would be:
Rimando; Beltrán, Olave, Borchers, Wingert; Johnson, Beckerman, Gil, Velásquez; Espindola, Saborio.
INJURY REPORT
OUT: DF Victor Bernardez (L knee MCL sprain); MF Joey Gjertsen (R knee surgery); MF Shea Salinas (L clavicle fracture); DF Tim Ward (L non-specific soft tissue injury)
QUESTIONABLE: MF Cesar Diaz Pizarro (R hamstring strain); FW Alan Gordon (L hamstring strain); FW Steven Lenhart (R hamstring strain)
The Real Salt Lake lost the "Realeza" (best royalty) over the weekend when succumbing to undefeated MLS's Sporting Kansas City. However seem calm about Saturday's game against the Quakes. Real (5-2) still rules the Western Conference with 15 points, followed by the Earthquakes with 13 points.
The MLS announced a one game suspension against midfielder Marvin Chavez for this upcoming game against the RSL; unrelatedly the MLS suspended Rafael Marquez with a three game suspension for a play that cost Quake's Shea Salinas' collarbone.
Coach Frank Yallop is facing a challenging game with three people out. With Salinas and Chavez out he will likely move Rafael Baca and bring in rookie Sam Garza. Leaving Moreno or Dawkins to fill in for Baca.
So the San Jose Earthquakes are limping a little bit, but they are not too far behind in their group. On 5/13/2012 the Quakes will face the Chivas USA at home, bringing the international atmosphere to the Bay Area.