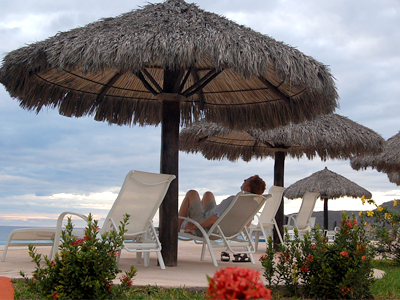 The attraction of eco-living and eco-tourism--- 


There are still many places in Mexico that are unspoiled and untouched by tourist development. Foreigners and Mexicans who value un-crowded places where nature still dominates are attracted to places like Cabo Corrientes, which is South of Banderas Bay in the state of Jalisco. Driving two hours from Puerto Vallarta, our destination was a unique eco-resort in the Cabo Corrientes region.  

Just outside the very small town of Villa del Mar is El Cielito, an ecologically inspired resort of ten eco–cabañas made out of adobe, palapa roofs, wood and natural paint. The cabañas are located on a small cliff just above a wide and dramatic beach that looks untouched as far as you can see North or South. Being directly on the Pacific Ocean, the waves are powerful and loud – most of the beaches in the area are not suitable for swimming, though it's not swimming or the usual tourist features that draw visitors here – it's the peaceful solitude. The beach is long with hundreds of palm trees and a little river. Providing background to the pristine scene is a low and long mountain range.  
Much of the land here is still ejido, which is communal land owned by Mexican citizens and often in a cooperative structure where several people own the same parcel of land. Welcoming us to El Cielito was Edgar Chavez, one of the resort managers and also one of the owners. After checking us in, he offered us coconuts that he cut from a coconut tree next to the resort's restaurant. We enjoyed the refreshing coconut water and admired the beautiful sunset by the pool.  
Seven years ago, a group of land owners (ejidatarios) here decided to pursue their business dream that became El Cielito. "I never thought of starting this kind of businesses – we are farmers, we know how to work the land," Cleofas Peña told me. Peña is the president of the committee of ejidatarios who own El Cielito. "We did not know that by just preserving the natural landscape we could make a business," adds Peña.
After a delicious breakfast at El Cielito´s restaurant, Peña told me about the hard work and long process that the group of ejidatarios endured in order to keep their land and their dream. The ejidatarios learned through several workshops and feedback from similar businesses how to envision and build an eco-friendly business and how protecting and respecting the earth could help them attract guests to their business. They have discovered that there is a growing number of people who want to escape to a simpler vacation destination where nature is the main attraction.

The area, though, still offers many activities such as kayaking, snorkeling, horse riding, or just exploring the nearby towns to meet the friendly locals and foreigners. In my exploring I visited Mayto beach, which has a turtle sanctuary where local people and volunteers (mainly foreigners) protect sea turtle eggs until the baby turtles are born and ready to head to sea. I was lucky to see some baby turtles breaking free from their egg shells.
In Tehuamixtle, a little fishing town located in a very small bay, I enjoyed a great lunch of lobsters and huachinango fish. Everything was very fresh, having been caught just an hour or two before I was served. While waiting for my food, I enjoyed the amazing view and the sensation that time does not matter.

One of the great things about the area was the community of Mexican and foreign entrepreneurs running businesses. Like El Cielito, many of the businesses are eco–friendly in their construction and operation. A fascinating example was Rancho Sol y Mar, a solar-powered campground and goat farm producing organic goat cheese and providing a farm experience for guests. During my visit I milked a goat for the first time in my life and tasted the cheese, which was as fresh and pure as so many aspects of life here. Owners Holly Hunter and her husband Dan left the city life in the U.S. and are clearly enjoying the realization of their vision to create an eco-friendly business and home where they produce organic products and rely on solar energy. They are planning to add a botanical garden and a yoga studio to their unique retreat.

Leaving El Cielito the next morning, I had a strong desire to stay longer, but the demands of my work life needed to be answered. In my brief time there, I loved seeing a great community of people helping and enjoying each other - a community working for a lifestyle where people are connected to the basics, to their roots - a community that respects and enjoys the beauty and abundance of nature. It is a place and a lifestyle to which I could easily surrender.