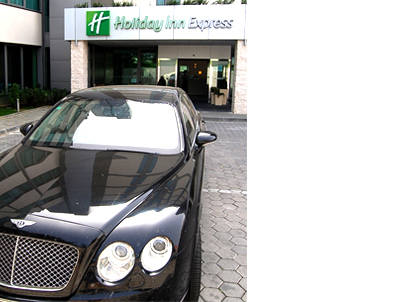 There is a black Bentley sedan parked in front of the Holiday Inn Express hotel. The $200,000 luxury car seems out of place at a Holiday Inn property but it's a reminder of the purpose of my stay here:  to see how far up market the American hotel chain has moved since I last stayed with them many years ago. The Bentley and I are at the Holiday Inn Express in Lisbon, Portugal, a city that is one of my favorite value destinations in Europe.  My stay at this hotel is less about this particular location and more about assessing the chain's level of service and comfort regardless of country or location. Could Holiday Inn Express become one of my favorite value hotels?

Greeted by a row of smiling and attentive front desk staff, I already have a positive first impression about the quality of service. The first two employees I encounter eagerly assist me in English and it becomes evident that most or all of the front desk staff are bilingual or trilingual at least. Since I'm on a business trip and have a fair amount of work to do before my early morning flight, I feel fairly confident at this point that I'll have a productive and restful stay.

Being attentive and anticipating customer needs are what I look for in quality service from hotel staff. Within ten minutes of my arrival, the staff here clearly demonstrated their ability to provide a level of service well above the hotel's three-star rating. On first arriving at our room, I saw that the cleaning person was still working within – she apologized and immediately called the front desk. I asked to speak to the person at the front desk, who sincerely apologized and said she would come to the room with keys for another room. Three minutes later, she arrives to take us to a room on a higher floor. Upon asking another employee what time the included breakfast was available the next morning, we were told it was well after our early departure but with little hesitation he asked if we'd like them to pack a couple of breakfasts for my wife and I to take with us. Yes, thank you.

Ours was a standard room, which was small but had a smart designer look, a comfortable bed and well appointed restroom with bidet, hair dryer, etc. The wi-fi signal was adequate (charged by the hour) and overall the room was comfortable and quiet. A personal wake-up call got us downstairs in time to pick up our breakfasts and get on the hotel's airport shuttle van.

Overall, this Holiday Inn Express was a pleasant surprise and seemed to be a competitive value compared to similarly priced hotels near the Lisbon airport. It certainly scored a lot of value points for me as I cannot remember the last time I experienced such willing service at a hotel in this price category. But why shouldn't I expect four or five-star service to be possible in a three-star hotel? I'm sure the owner of the Bentley expected nothing less.