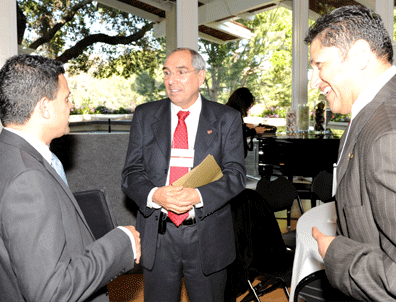 Business event stresses responsibility, accountability and hard work ---

A recent inaugural Latino leadership summit held in Menlo Park was so well attended and drew such high-caliber speakers that organizers are already planning the event for next year.
The 2010 Latino Leadership Summit was held May 15 at a conference center on Sand Hill Road, which is considered a mecca for venture capital companies.
The event brought together panels of successful and influential Latinos – from national political leaders to scholars to business people – to discuss a diverse array of topics, from Hispanics in the media to the best practices in recruiting and retaining Hispanic talent.
The sold-out event, which drew about 150 people, was also a networking opportunity, and brought together entrepreneurs with venture capitalists. The theme of the event was that success will be based on the access to capital, as well as responsibility, accountability and hard work.
In his keynote address, Texas state senator Rafael Anchia, who's been likened to a Hispanic Obama, said the success of the Latino community will ultimately rest on the shoulders of Latinos themselves.
"If change is going to happen, we're going to cause it," said Graciela Tiscareño-Sato, an organizer of the summit who was recently recognized by LATINA Style Magazine as the Bay Area's entrepreneur of the year.
But part of that change will depend on raising the visibility and positive image of Hispanics in the media. When it comes to Latinos, studies have shown that what little the media portrays tends to focus on issues relating to immigration, negative stereotypes or popular entertainers, Tiscareño-Sato said.
Counteracting those images will depend on a "bottom-up" approach of using online social networking tools such as Twitter and Youtube to generate buzz as well as attention from mainstream media outlets.
"The stories are being created by all of us," Tiscareño-Sato said, "and we become noticed by the mainstream media and we become a story that way."
"The success of the event is indicative of the greater success Hispanics are having in general," said Margarita Quihuis, who does research at Stanford University looking at the impact of social media and other persuasive technologies on American culture.
"A similar Latino summit event was held several years ago in San Francisco, but the number of participants and the high caliber of speakers wasn't nearly as high," Quihuis said.
"It speaks more to where the Latino community in Silicon Valley is today compared to where it was nine or 10 years ago," said Quihuis, who also helped organize the summit and is the chairwoman of her own small business. "So we're coming up the curve."
Helping lead the way is Frank Carbajal, the founder of the event and the author of the book "Building the Latino Future: Success Stories for the Next Generation."
The book, relates stories of successful Latinos, from New Mexico Governor Bill Richardson to actor Edward James Elmos, and is intended to create a more positive perception of Hispanics while also offering a framework for leadership and success.
"You have to go out and network, you can't be a person that isolates yourself," said Carbajal, who is also an entrepreneur with a background in human resources. "Go out to events like the (Latino) Silicon Valley Leadership Summit. ... You have to be on alert."
San Leandro resident and entrepreneur Carolina Miranda she said she was very impressed with the event and made good contacts.
"There were lot of business people – entrepreneurs, attorneys, professors, researchers," said Miranda who just completed a masters in business administration from Dominican University in San Rafael. "And it was really great to be at an event with such really bright and talented people."
Miranda said she thought that such events were important. As a Latina, when she goes to business events, she's typically in the minority.
"I for one thought it was really great to see so many Latino leaders come together in way they did," she added, "and I would like to see more events like that."