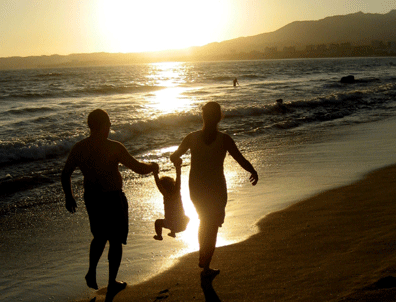 Puerto Vallarta has retained its popularity as a vacation destination for more than forty years. Great weather, nice beaches and many outdoor activities attract the tourists and help fuel the growing expat population. Puerto Vallarta's record as one of the safest destinations in Mexico also makes it a popular choice among people visiting Mexico for the first time.
High or low season, the Puerto Vallarta area is known for weather that is neither too hot nor too humid, unlike the more tropical destinations to the South (Acapulco a notable example). Though temperature and humidity increase somewhat in the spring and summer, the truly hot and humid months are limited to August and September. The weather is ideal in winter months, but getting a low season travel bargain won't mean you have to endure an uncomfortable climate.
Puerto Vallarta (or 'PV', as the frequent visitors call it) also boasts a lively downtown, hundreds of restaurants and nightclubs, and countless shopping destinations. Downtown ('El centro') is a joy to explore on foot, though the rest of the city's stretched-out expanse will test even serious walkers. Unless you're staying downtown, you'll rely on taxis or the public bus system, which is easy to use though known for somewhat reckless drivers. 
Always ask about the fare to your destination before entering a taxi and always carry change. Fares to various spots in the city are usually posted near the taxi stand at the larger hotels. These rates are usually not negotiable if taking a taxi from the hotel, but they are a good reference when you're trying to negotiate a fare when hailing a taxi on the street.
Tourists also value Puerto Vallarta's central location on the expansive Banderas Bay, which is rimmed with beach towns, resorts, and golf courses. Taking a day trip outside of the city will reward you with many options to take refuge from Puerto Vallarta's hustle and traffic. The most popular beach destination South of the city is Mismaloya, which is set on a small but picturesque bay. There's not much to explore in Mismaloya but it's a great place to spend a day playing in the surf or just soaking in the views from a restaurant on the beach.
There are many more nearby places to explore North of PV. One of the most popular beach towns is Bucerias, which like Puerto Vallarta, is dominated by foreign tourists and expats (mostly Canadians and Americans). Like many small beach towns, hotel accommodations in Bucerias are limited and barely meet a three-star standard. Most tourists rent a house, condo or a bungalow at one of the many small beach resorts in town. An online search will show how affordable a condo rental in Bucerias is compared to PV, especially for a place on the beach. For a relative bargain, a town like Bucerias or Sayulita or San Pancho could then be your base for exploring everything that makes the Puerto Vallarta area so popular.